Mountain lodge Žitnica
The mountain lodge Žitnica on Japetić is located about 1 km southwest of the Japetić peak.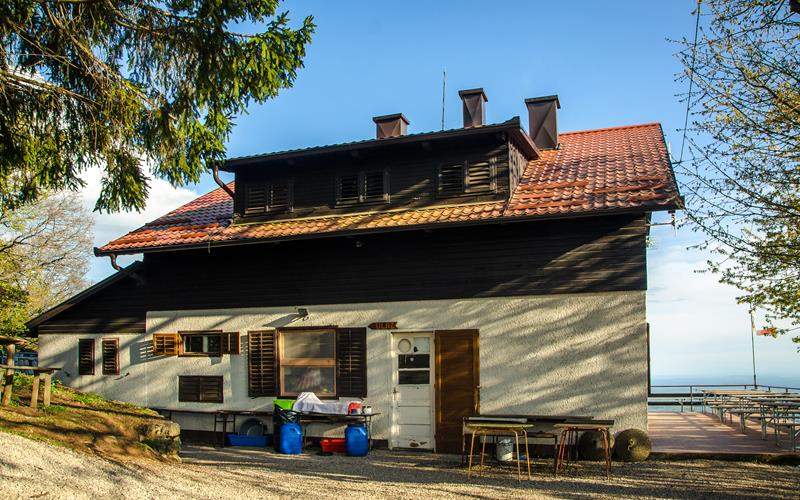 The Žitnica Mountain Lodge at Japetić is located about 1 km southwest of the Japetić peak, on the top of the steep meadow Žitnica. From the lodge there is a remarkable view over the meadows and valleys of Jaska. On the ground floor there is a dining room and a kitchen, and on the first floor there are dormitories.
The house has a spacious dining room, kitchen, terrace and 3 rooms with a total of 21 beds. It is supplied with food and drinks. It is open on fridays, saturdays, sundays, holidays and by appointment. Lodge can be reached via the macadam road from Sveta Jana. In the house there is a check mark of the Karlovac Bypass and the Circular Mountaineering Route through the Samobor Hills.
Approach by car: We can reach the mountain hut by car from Samobor or Jastrebarsko. From Samobor through Starogradska street we head towards the western part of the town. We continue towards Smerovišće. At the exit from Smerovišće we turn right to Cerina, continuing through Šipački Breg and Majuri towards Dragonoš. On the gentle stretch of the road with extensions for car parking (about 800 m before Dragonoš) there is a macadam road leading to the parking lot above the lodge. From Jasterbarsko, not far from the parish church, we turn from the main road to Sveta Jana, or Gorica Svetojanska. The road runs past the Erdödy Castle and continues through the villages of Hrastje, Malunje and Ivančići. After entering to Ivančići, the road rises and after kilometer there is the sharp left bend and the intersection. If you go straight, it continues towards Gorica Svetojanska. After 300 m there is a primary school. Not far from it, the road turns sharply to the right downhill, and at the chapel it turns right again. It continues beside the playground of footbal club Sv. Jana, the quarry, the Grabarak village to the parking lot above the lodge. Distance from Jastrebarsko to the mountain hut is about 25 km, or about half an hour drive.
Walking time to the surrounding mountaineering facilities: Mountain hut Željezničar - 2 h, Mountain hut Ivica Sudnik (Veliki Dol) - 2.30 h, Mountain hut M. Plotnikov (Okić) - 5.30 h