Rudarska greblica (Miners' cake)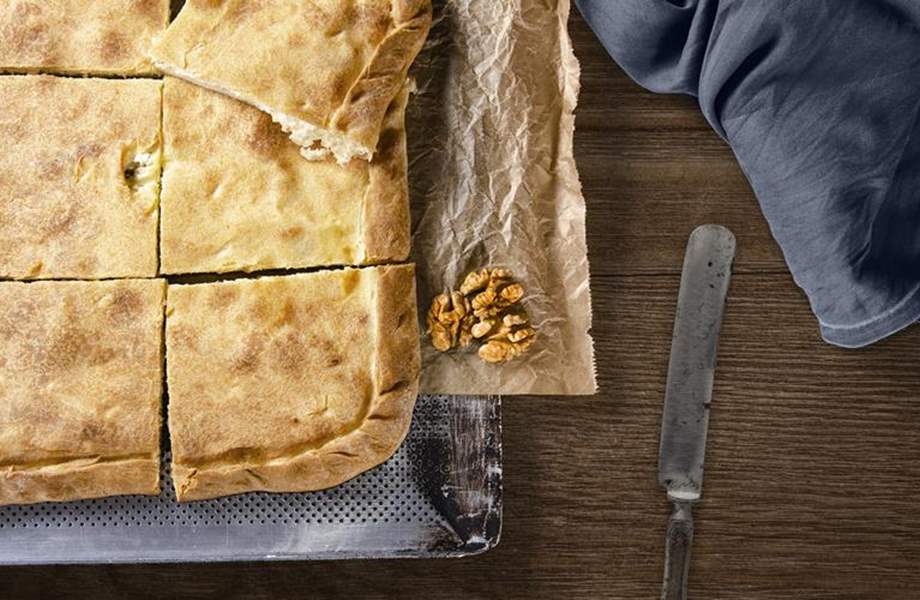 During old times, while citizens of Rude were still miners and their women worked in the fields, started the story of a salt cake which is today a trademark of every home in Rude. In the modest households of that time, this cake was served as the main dish, available to the poorest, and was named after greblica, a wooden tool that was used for spreading the ashes in the bread oven.
The only written record of the preparation of the cake was left by Milan Lang in his most significant work "Samobor - folk life and customs", in which greblica is mentioned as a thin cake of cheese and walnuts. Often the only snack of modest miners, today it is a specialty that makes proud not only the citizens of Rude, but also the citizens of Samobor. Greblica is part of the revival of the mining tradition of Rude, which is based on the reconstruction of mines, mining dances and all those little things that make Rude attractive to numerous tourists.
At the end of 2007., the Ministry of Culture of the Republic of Croatia proclaimed the preparation of cake Rudarska greblica as immaterial cultural good of the Republic of Croatia. Greblica is popularized and promoted by organizing exhibitions and festivals, its production is encouraged in the original and other environments, and experts are trained to transfer the skills and knowledge of cake making through seminars and workshops.
With this decision, the process of preparation of the cake was protected as immaterial cultural good, and the basic difference is in the skills of the person who prepares it. However, the basic rules must be followed if the cake is named Rudarska greblica. It must be salted, stuffed only with cheese or cheese with additions (nuts, yellow carrots, onion leaves, nettle, spinach), the dough must not be thick and there must not be a lot of yeast added.
In co-operation with the Ministry of Culture of the Republic of Croatia, Primary School Rude and Bakery "Nikl", KUD Oštrc organized the first workshop of preparing greblica in May 2009. After the theoretical part that was held in Primary school Rude, the students went to the bakery where they were making their first greblica with professional help, which they later brought to their homes. Workshops are organized every year.
In 2016., the Rudarska greblica association received grants from the Ministry of Agriculture with the intent to obtain a geographical indication for greblica, meaning that it could only be produced only in the area of Rude.